WINDMILL OFFSHORE/SUPPORT vessel for sale from direct/local owners
VALDEMAR M (ex Viking Staffa)
Built : 1974 Vancouver, Canada
Converted : 2008 (rebuilt for windmill operation)
1,196 DWT
Class: Lloyds +100 A1 - (new classed in 2009)
Tonnage: 1210 GT 363 NT
Dimensions: Loa 58.25 x Beam 12.80 x Depth 5.10m
Main engine: 4200BHP Nohab Polar, 4 x 1.050 BHP
Fuel consumption:
Approx. 10 knots on 5.100 ltrs. gasoil per day approx.
Eco approx. 7 knots on 3.800 ltrs. gasoil per day approx.
Standby approx 2.500 ltrs. gasoil per day approx.
Propeller: 2 x CCP-propeller in nozzle rudder
Side Thrusters: 600 BHP Samuel White Giljet bow tunnel side thrusters, 2 x Spade rudders
Generators: 1 x 220 Kw
2 x aprx. 220 Kw (shaft gen)
Deck equipment:
(There is no towing winch.)
1 x Deck crane type Petrell 125 ts/m , new 2009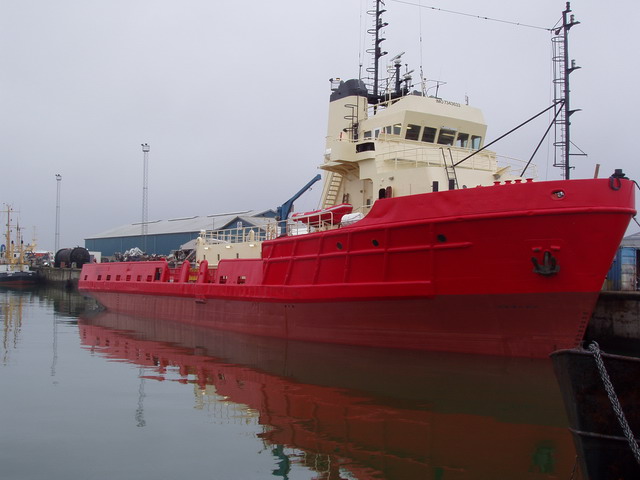 FOR SALE DOUBLE BOTTOM TANKER:
M/T GORGONILLA
8,192 DWT ON 7.16M NLT 1989 SHIN KURUSHIMA CLASS RMRS LOA 115.54M BEAM 17.80M 22 TANKS 9563 CBM 8 CENTRE TANKS 5785CBM ST.STEEL W/TANKS 4117CBM ZINC COATED COILED MAN B&W 5L35MC 4418 BHP DOUBLE BOTTOM ONLY
Vessel presently Kaliningrad where inspectable
Main Engine and 2 DG recently overhauled, heating system under overhauling.ballast tanks and zinc coated cargo tanks partly painted. when ss/dd is passed RMRS class will declare/give certificate that vsls hull strength of a vsl 10-15 yrs younger. Owners have an agreement with russian maritime registry about entering vsl into class for 5 yrs-cost abt us$ 80,000 and repair third diesel generator abt us
$ 25,000. As brokers try us$ 2M to test ASIS Kalinigrad. Have list other works carried out which extensive and can be supplied on request. Owners willing deliver the vsl elsewhere if required at price to be agreed.
also, owners willing consider bareboat/purchase deal against suitable guarantees.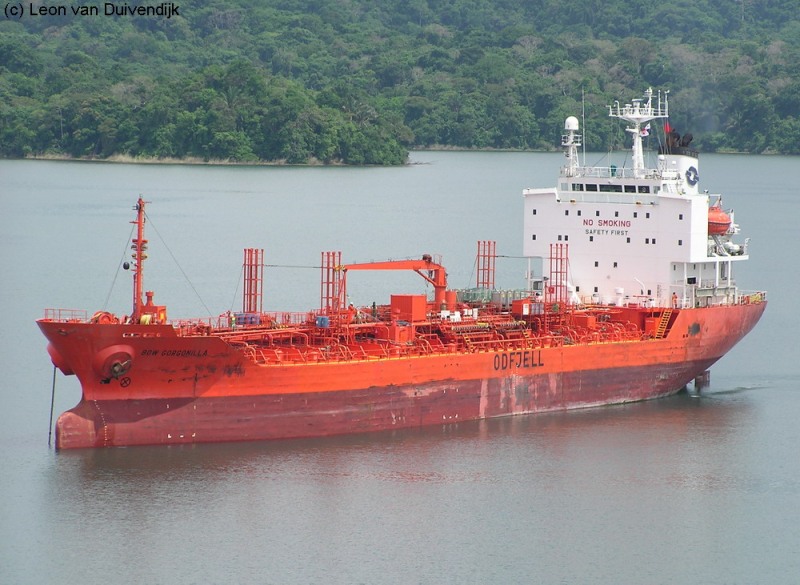 Our Direct owners have a new building 310 pax Derrick/Pipelay Barge with 3000T Crane expected completion/delivery Feb 2012.

Her specs are attached here

The vessel is to be designed as a non self propelled shallow water pipe laying barge equipped, and capable of laying submarine line in 300m depth water.
Operating line for pipe laying is to be situated on port side of main deck, stern to be provided with fixed type stinger.

Main deck is capable of store abt.5000t pipes. The loading, unloading and transfer of pipes is to be carried out by one (1) pipe crane, roller and transport be fitted on stern.

One (1) 3000t (fixed type)/2000t (full revolving type) marine heavy crane is to be fitted on stern. Crane maker (ZPMC patent model), 12 mooring points, mooring winch system is 220 ton drag brake type, mooring anchor 12 ton delta flipper type etc,

Cabins is to be capable of accommodating 310persons operating onboard.

For your guidance, owner have a similar sister vessel which have been fixed BBC for USD110K/day for 10 years.

Owners looking at similar level for this barge. Can guide on TC rates.

Full details in hand. Further details upon receipt of firm interest


LOW DRAFT RIVERTANKERS FOR SALE
Following our succesfull recent sale of 4 tankbarges to West Africa we can secure the below Dutch tankbarges for which please observe :
Type of ship:
These barges are single bottom and single sides, suitable for gasoil and other light products Class and use abroad:
They are classed "Inland barges" BV/GL/Dutch Shipping inspection. This class is only for inland navigation in Holland, Germany and Belgium -BUT- our clients in West Africa have purchased similar tankers and they use them in the estuary/inland and offshore coastal upto 10 NM in for example Nigeria and Ghana
Delivery:
The barges are sold as is/where is with delivery and payment Holland. For ships-delivery to other countries these barges can only under good weather circumstances go under own power along the coast but they need for this extension of navaids and one way certificates for Buyers to arrange. Commonly the barges are towed for which a 20/25 tons BP tug is needed, approx costs to tow from Rotterdam to West Africa Euro 250.000
The barges have always been used in freshwater and are in good and trading condition. There is no Q88 as only seagoing tankers have this, we can however upon request submit further details. The barges are trading with 2/3 crew
LADY J

1706 tons

Built 1961 Germany

Dimensions: 89,56 x 10,2 x 3,10 mtr

Tanks: 14

Engine: 1 x Caterpillar 918 HP

Price: EUR 145.000

Small pressurized LPG carrier for sale direct from owners

MT Nittan Maru No.11 - pressurized

===================

1,109 DWT on 4.35 m, Blt Mukaishima Japan 1986,

NK coastal SS Aug 2013, DD July 2011,

LOA 65.80 B 10.80 D 5.00 m, 692 GRT, 2 tanks 1,429 cbm,

Pumps 2 x 350 cbm/h, M/Eng Yanmar Z280ET 1,500 ps/650 rpm, CPP,

abt 11.5 knots on abt 4.5 t FO + 0.5 t MDO, 7 complement,

Cargo Propane/Butane/Propylene.

(Details are all about without guarantee.)

Delivery Japan as is around Mar/Apr 2011.

Have drawings etc available here.

 
KEVIN

2031 tons

Built: 1961 Netherlands

Dimensions: 99,60 x 9,49 x 3,00 mtr

Tanks: 10

Engine: 1 x MWM 1050 HP

Price: EUR 295.000

INGE II

2012 tons / 2776 cbm

Built 1970 Netherlands

Dimensions: 99,88 x 9,56 x 3,13 mtr

Tanks: 12

Engine: 1 x MTU 1450 HP

Price: EUR 350.000

ENDURANCE

2000 tons / 2863 cbm

Built 1972 Germany

Dimensions: 105,88 x 9,05 x 3,05 mtr

Tanks: 12

Engine: 1 x Caterpillar 1521 HP

Price: EUR 350.000
VLIELAND

2935 tons / 3155 cbm

Built 1985 Netherlands

Dimensions: 99,99 x 11,35 x 4,00 mtr

Tanks: 12

Engine: 1 x Stork 1147 kW

Price: EUR 485.000

VEGHEL

2260 tons

Built 1972 Netherlands

Dimensions: 100 x 9,78 x 4,00 mtr

Tanks: 12

Engine: 2 x 580 HP Bolnes

Price: EUR 375.000

RIO

2075 tons / 2576 cbm

Built 1972 Germany

Dimensions: 94,98 x 9,50 x 3,20 mtr

Tanks: 12

Engine: 2 x Cummins 810 HP / each

Price: EUR 295.000
LADY J

1706 tons

Built 1961 Germany

Dimensions: 89,56 x 10,2 x 3,10 mtr

Tanks: 14

Engine: 1 x Caterpillar 918 HP

Price: EUR 145.000

MAYON

3087 tons

Built 1973 Netherlands

Dimensions: 110,30 x 11,4 x 3,48 mtr

Tanks: 12

Engine: 2 x MAK 662 KW/each

Price: EUR 495.000

ECLIPS

3031 tons

Built 1984 Netherlands

Dimensions: 111 x 10,50 x 3,75 mtr

Tanks: 12

Engine: 1 x 1360 KW MAK built 1996

Price: EUR 595.000