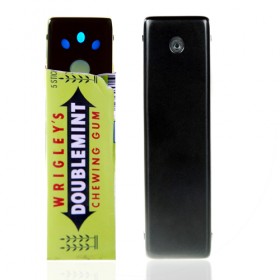 Description:
This great gadget is a upgrade product of LK-8YP007,it has a very high resolution of 640x480 pixels!you will find the video in the records is very clear.On the other hand,it has a clip in the front,so you can carry it more easily.
Specifications:
Video Compression:3GP Video Format, 640x480 pixels
Video Recording:Yes
Internal Memory:2GB memory built in
Video File Size:>500KB per minute
Recording Mode:Continuous recording until memory is full or manually off
Adaptor Type:USB adaptor charging cable
Battery Type:Lithium-ion
Record Time:Up to 2 hours
The Mini Interview Recorder is easy to use with a "one touch record" button lets you discretely record any evidence instantly. For the most discrete application, the PI-CamStick can even fit into a standard pack of chewing gum! High quality instant videos have never been easier!
Other Great Features:
Can be used as USB storage device
Videos can be uploaded to your PC via USB directly from CamStick
Wide angle 3.6mm lens
Dimensions: 73mm x 20mm x 11mm
Weight: 21g
Great for hidden camera or spy camera
Real time recording in 3GP video format
Color video with voice lets you clearly see who's there & hear what they say
Built in 2GB flash memory
Accessories:
PI-Cam Stick Recorder
USB Cable
Instruction Guide